Our Services
The primary goal of the Counseling Center is to promote students' personal development and psychological well-being. Services are provided for individuals with a variety of challenges such as personal-social concerns and life-planning issues. Experienced professional counselors, psychologists, social workers and graduate students assist clients in resolving conflicts which may interfere with their progress at the university.
Counseling is a process that requires participation from both the student and the counselor. However it is ultimately the student who makes the choice for taking steps toward healthy changes.
Due to limited staff and resources, we are unable to offer on-going counseling services to University employees. However, consultation and referral services are available by calling 417-836-5116. If you want to access therapy services, we are willing to provide you with community resources, or you may visit the Mercy - Provider Listing to locate preferred providers for Missouri State University Health Insurance.
Personalized Care Plan
Each student who visists the Counseling Center will develop a personalized care plan with a clinician. See the model below for services offered through the Counseling Center.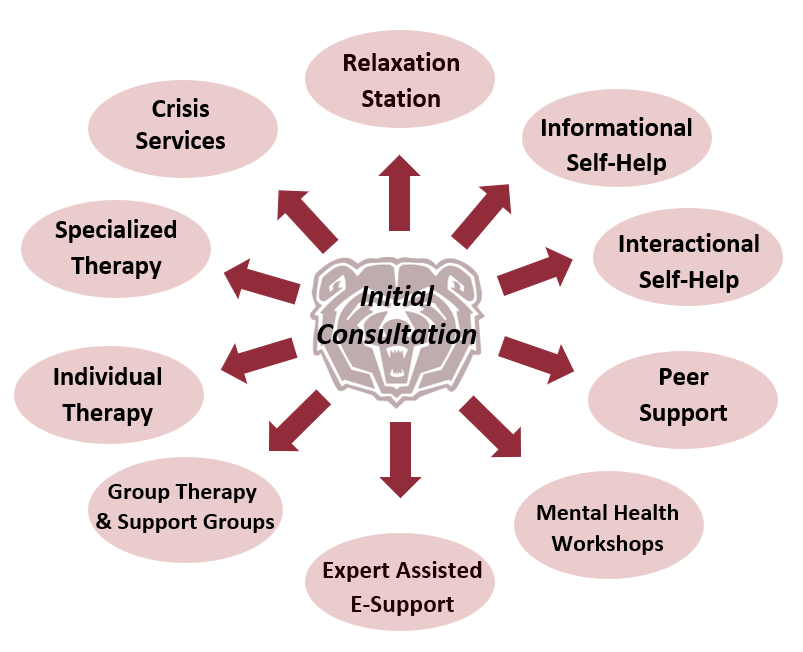 Individual counseling
Individuals may work with a clinician in order to identify, understand and resolve personal and relationship difficulties.
Couples counseling
Students may elect to participate in relationship counseling, provided both students are currently enrolled Missouri State University students.
Group counseling
At times issues are most effectively dealt with in a supportive environment where interaction occurs with others. Groups are structured to promote personal growth and skill development by focusing on particular concerns such as self esteem, eating disorders, sexual abuse and college adjustment.
Consultation/referrals
The Center's staff is available to share its expertise with university administration, faculty, staff and students. If assistance from other departments, professionals or agencies is indicated, the staff will facilitate such contacts.
Outreach programs
The Counseling Center offers special programs and workshops designed to define and/or prevent problems and improve the quality of university life. These outreach programs are presented for students on a regular basis, as well as by request. These offerings provide cognitive, behavioral and affective information that addresses a broad range of concerns.
Topics such as stress management, relationships, test-taking, effective communication, time management, anger management and co-dependency are typically scheduled. Contact the Counseling Center at 417-836-5116 for more information on our outreach programs. Requests should be received two weeks prior to the outreach date.
Please fill out this short survey regarding your outreach request.
In order to optimize the learning experience, we ask that the person requesting the program or a representative be present during the presentation. For more information about our current workshops check our upcoming events.
Emergency/crisis services
Crisis intervention is provided to deal with situations which require immediate attention. During office hours come by the Counseling Center, Magers Health and Wellness Center, Suite 304. A clinician is always available to meet with students. Don't try to contact us by email. After hours read up on more Emergency/Crisis information.